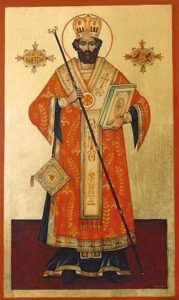 TESOROS DE NUESTRA TRADICIÓN
Esta semana recordamos a san Valentín, obispo y mártir. En E.U. se conmemora el amor de parejas, novios y esposos. Según la tradición, san Valentín, en el año 270, contradijo al emperador y casó a varias parejas después de que el emperador hubiese prohibido el matrimonio para mandar los hombres al ejército. Valentín fue encarcelado y allí se enamoró de la hija ciega del carcelero (en aquel tiempo los obispos y los sacerdotes se podían casar). El santo le dio la vista a la muchacha y se hicieron novios. Llegado el día de su martirio Valentín le dejó una carta de despedida con el carcelero. La firmó "De tu Valentín".
En algunos países latinoamericanos el 14 de febrero es la celebración del amor y la amistad. Los novios son importantes, pero la persona no puede vivir sólo con el amor de pareja. Los humanos estamos hechos para varios tipos de amor. Estamos hechos para el amor que nos trasciende a nosotros mismos. Este es el amor cristiano, el que no se limita a familia, amigos. El que es valiente, como lo significa Valentín, ama a todos aun a la persona que es diferente a uno. (San Valentín no está hoy día ni en el Santoral ni en el Misal Romano.)
—Fray Gilberto Cavazos-Glz, OFM, Copyright © J. S. Paluch Co., Inc
TREASURES FROM OUR TRADITION
This week we remember Saint Valentine, bishop and martyr. In the US. The love of couples, boyfriends and husbands is commemorated. According to tradition, St. Valentine, in the year 270, contradicted the emperor and married several couples after the emperor had prohibited marriage to send men to the army. Valentin was imprisoned and there fell in love with the blind daughter of the jailer (at that time bishops and priests could get married). The saint gave sight to the girl and they became engaged. On the day of his martyrdom Valentine left him a farewell letter with the jailer. He signed it "De tu Valentín".
In some Latin American countries, February 14 is the celebration of love and friendship. The couple is important, but the person can not live only with the love of a couple. Humans are made for various types of love. We are made for the love that transcends us to ourselves. This is Christian love, which is not limited to family, friends. The one who is brave, as Valentine means, loves everyone even the person who is different from you. (St. Valentine is not present today in the Holy or in the Roman Missal.) -Fray Gilberto Cavazos-Glz, OFM, Copyright © J. S. Paluch Co., Inc..