Raffle Tickets / Rifa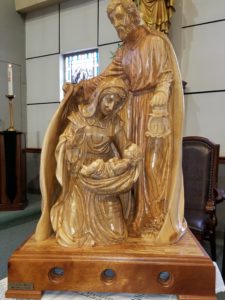 Unique Olive wood handcraft 3ft tall by 2ft wide. This work of art was made by Zacharia Brothers from Bethlehem with a value of $9000.00. This raffle will be helping our Cristian brothers and sisters from the Holy Land. The proceeds will help pay for the parish pavement and also to help people who were affected by the fire. $20.00 per ticket and if you buy more than two you will be getting a free olive wood rosary from Bethlehem. We need 15 people per mass to help us sell 20 tickets each, if you are interested on helping us please call the office. Thank you!
Artesanía única de madera de olivo de 3 pies de alto por 2 pies de ancho. Esta obra de arte fue hecha por los hermanos Zacharia de Bethlehem con un valor de $9000.00.  Esta rifa ayudará a nuestros hermanos Cristianos de Tierra Santa. Los ingresos ayudarán a pagar el pavimento de la parroquia y también a ayudar a las personas que fueron afectadas por el incendio. $ 20.00 por boleto y si compra más de 2 recibirás un rosario de madera de olivo gratis de Bethlehem. Necesitamos 15 personas por cada misa para ayudarnos a vender 20 boletos cada uno y hacer esto posible, si estas interesado en ayudarnos por favor llame a la oficina. Gracias!